OK1FXX
MY WORK: ELLI print
HOME
OK1FXX

HI!
I am Bedrich Sigmund, OK1FXX, my nick is Beda.
My hobbies are nice girls. Also VHF and HF work on amateurs bands, fishing and scouting.
Particularly I like graphic works. Printing QSL cards is my toy and pretty good job (for details please have a look at my QSL and JIGSAW PUZZLE factory).
My home QTH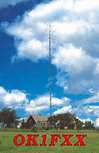 My home QTH in a very small village Vysinka (in locator JO70WL, 532 m a.s.l.), near small town Dvur Kralove nad Labem.
Picture is from front page OK1FXX QSL card. Tower is from Russian army, lowest beam for 14 MHz is 30 m (100 ft) hight, supreme 144 MHz beam is 37,5 m (125 ft) hight. From tower is 80 m low attenuation coax cable.
In ham shack I like KENWOOD rigs TS 520, TS850 and TS790 with competent amplifiers - 1500W from 160 m to 70 cm bands and 100W in 23 cm band.